Good storytelling is the key aspect in elevating a game from an exercise in strategy to a rich and exciting experience. It's the difference between just playing to win and the opportunity to explore, discover, and influence the story and even the whole game world. Since we've already shared our thoughts on storytelling in this article, we wanted to let the community voice their opinions as well.
Read More »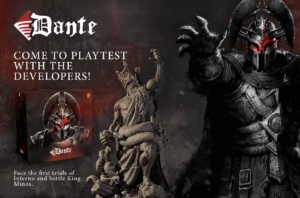 Gencon – Booth #3029, come play Dante or Apocalypse with the designer.
There is a lot more exciting news. Read below about our partnership with King of Average, welcome a new CGS team member, share your thoughts in a fresh community discussion with a giveaway, and check out news about our projects and the community.
Read More »
Solo gaming has clearly been a significant driving force in board gaming that it is hard to imagine a major release, especially for a thematic game, that wouldn't support solo play. As a company, we strive to keep our fingers on the pulse and listen to the voice of the amazing community that has gathered around the CGS games.
Read More »
Subscribe to the CGS Newsletter and stay updated with the latest information about our past and upcoming crowdfunding campaigns, game releases, and other news from our studio.